•*•*• Stormystudios NEW •*•*• TOP DOWN SHOOTER TEMPLATE - NOW £9.99
StormyStudio
United Kingdom
Member
Posts: 3,989
Evening World...
I'm very pleased to announce our top down shooter template is now available.
BARGAIN PRICE OF £9.99
Awesome template with potential to make so many excellent games. This really has a lot in it.
Features:
- Every rule is fully labelled up clearly to learn from and adapt
- Unique camera control mechanic that moves camera to where the hero actor is looking, so you can see whats ahead of you rather than the camera being fixed to above the actor.
- 12 x Recycled bullet actors (no spawning and low processor usage)
- Customisable fire button position for user of game to choose position.
- Collectable Ammo refills
- Hero Actor Moves to touch when released
- Hero Actor rotate to direction of movement
- Hero actor also rotates without walking to touch on screen.
- Pressing fire button does not make actor walk to that position
- When fire is pressed the hero draws his gun
- When fire is released hero actor fires gun
..and so much more
I will soon be adding health meters to the score the hero actor can be hurt by the enemies.
Also any other ideas welcome (please post in this forum or email me)...
This template contains so so so many different well made rules. All done to achieve the best performance.
Please check out the below video to see a walkthrough of the template: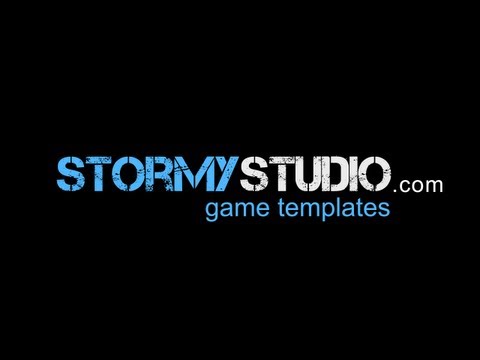 To see some more screen shots of this template and to purchase it head on over to our site
http://www.stormystudio.com/templates01.html
Thanks for looking, all templates come with email support.
I'm away on a surfing holiday next week (hence the quickly made video tour), but I should hopefully still be getting my emails on m iPhone.
Many thanks
Jon from www.stormystudio.com