★★ Suburban Grand Prix ★ ★ now available on AppStore!
SingleSparq
Member
Posts: 1,339
Ladies and gentlemen, start your engines! But keep it down some of us have to work in the morning.
Suburban Grand Prix yanks the racing from the hands of professionals and places it squarely on the Suburban home dweller, all racing for fame and prize money!
The light hearted racing game that puts you in control of the most sought after street vehicles known to man. The Snow Plow, the Street Cleaner, the Ice Cream Truck and the luxurious Lawnmower!
With 4 unique venues and 16 tracks total your challenge is to gain prize money by finishing in one of the top three spots. Collect bonus items during gameplay for extra $$ or complete the bonus task to 2x your score!
Features:
*4 unique venues
*16 tracks
*Detailed vehicles and level graphics
*Car smoke damage when collision with track sides
*Power-ups for speed and damage fix
*Oil and other obstacles that disrupt your vehicle
*Bonus items to collect for extra dollars
*2x bonus if special task is completed
*Choose between 3, 4 or 6 Lap options
*GameCenter leader boards
itunes link:
http://itunes.apple.com/us/app/suburban-grand-prix/id457409208?ls=1&mt=8
Promo video: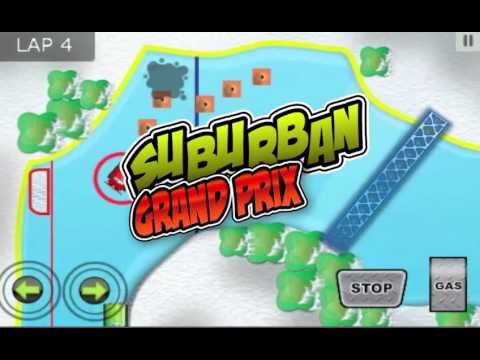 Gallery: