Rocktap Battle - Now available on App Store - Please give a try!
Fabri Damazio
Member
Posts: 97
Rocktap Battle is a game based on your skills, intelligence and speed. Beat the clock and collect the stars to become a Rockstar.
Link on App Store:
http://itunes.apple.com/us/app/rocktap-battle/id530096547?l=pt&ls=1&mt=8
If you like a challenge and loves Rock'n'Roll this is your game!
The game has an amazing soundtrack with 7 songs from the band Dr.Sin exclusive, vibrant graphics and intuitive controls!
Use your skill and intelligence to make points, collect stars and beat the clock.
Challenge players from Gamecenter and become the fastest player in the world!
Join us in this battle!
- Sensational soundtrack of the band Dr.Sin
- Several achievements in Gamecenter
- Random game! The same stage will never be the same!
- 4 levels of difficulty
- 2 game modes: CAMPAIGN AND TIME ATTACK
- Play up to 60 levels!
- Special items (power ups)!
- Integration with Gamecenter with 5 world rankings!
- Internal Shop to purchase more stages and items!
- Various scenarios!
-Compatible with iPhone 3gs, 4 and 4S.
Rocktap Battle on Facebook
www.facebook.com/rocktapbattle
www.facebook.com/rocktapbattle.br
Twitter and Facebook:
@neogeekoficial
www.facebook.com/neogeek.us
www.facebook.com/neogeek.br
GamePlay video: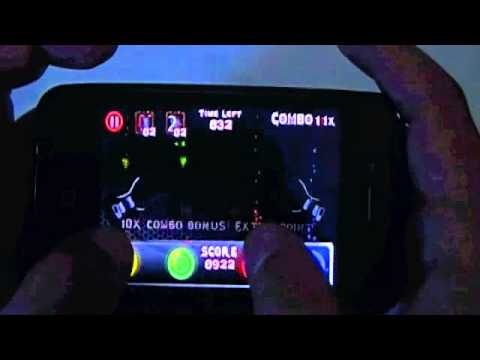 Link on App Store:
http://itunes.apple.com/us/app/rocktap-battle/id530096547?l=pt&ls=1&mt=8