Official GameSalad Templates on Marketplace ☢
CodeMonkey
Head Chef, Member, PRO
Posts: 1,803
Note: Use Firefox or Chrome to properly see the links.
GameSalad is pleased to present to our community the "official" GameSalad templates designed and developed by GameSalad's own expert, in-house game development team. Emulating the gameplay of highly successful mobile games, these templates are designed to bring powerful gameplay mechanics right to your fingertips. Detailed actor and logic comments are incorporated throughout, accelerating your understanding of the design and making customization fast and easy. Our first release includes "Toys vs. Bullies" ("Plants vs. Zombies"), "SOD of War" ("Angry Birds"), "Top Notch Trivia" and "Monster Match." All of these new templates can be found here:
GameTeamOne's new templates
See below for the next release of templates specifically using new functionality available in GameSalad Creator Release Candidate 0.11.0.1 or higher.
Which comes with the accompanying Layout Assist Tool:
Official templates in the marketplace requiring at least GameSalad Creator Release Candidate 0.11.0.1
This template will show you how to do typed out dialog all run from table data.
Change Scenes with less logic.
Slide in menus and slide or quick transitions.
Download from App Store
Puzzle game with a level designer. You control what instructions to give the cyborgs. Different cyborgs have different allowed instructions which is managed by a table.
Download from App Store
A boggle type game with over 240,000 words! The table search functionality makes word searching incredibly fast. AND there is hexagon collision area logic(via math).
A picture or word clue based letter unscramble (4 pics, etc) 4 pics 1 word. You do not need to enter words one character per cell and the hints can be updated as 4 pictures, or 1 picture, or 4 text clues, or 1 text clue. These can even be formatted to your preferences via the setup table. There is a hint system in place to delete incorrect letters and place correct letters in place and lock them in. Hyphen and spaces are automatically placed and don't count as letters and longer words/phrases get automatically split into multiple lines.
Download from App Store
A decoration template on how to spawn items from menus and save all that for later editing.
Download from App Store
Missile command on a microscopic level. This incorporates the new touch attributes so the exact touch becomes the projectile's target position.
More Templates - May 2014
A stripped down version of the spell checker in HexWords, but this includes the words separated by word length as well. A whole sentence can be given and is broken down by word and all the words are checked for spelling at the same time.
A level selection menu that unlocks levels once there is at least 1 completion icon filled. The completion icons are dynamic and can change per area. Areas are unlocked depending on total number of completion points on the previous level. The level area scrolls and has an indicator icon that goes to the next new open level, much like the Candy Crush level selector.
Choose your own path through the story. This is story defined by a table with different outcomes and associated images for each page.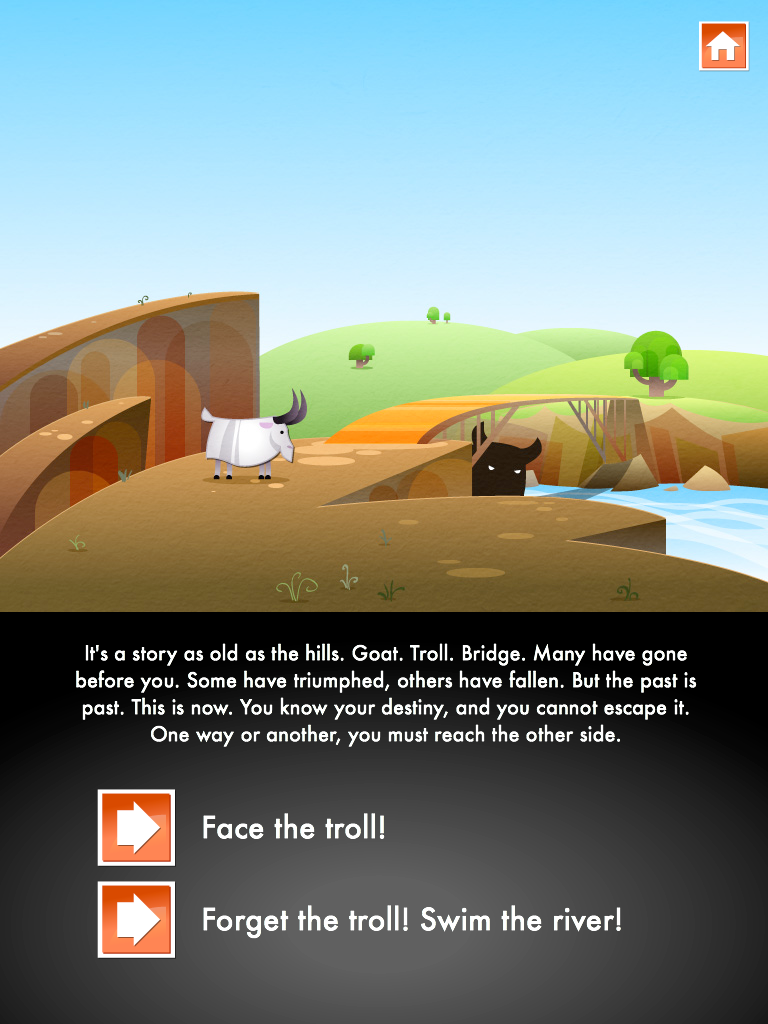 Not entirely basic. This allows you to swipe forward and backwards between pages, do a pinch zoom to show an image closer, or double tap a panel to bring it into focus. There is also an assist tool on one scene that you can use to define location and size of the panels on a page.
Need a shortcut to figure out which has the best hand of EIGHT players? Need to deal the cards for only a few players seated at the table? Need to figure out how to deal for Texas Hold'em or Straight Poker? This template has it. Though it allows for 8 players, it is not set up with networking multiplayer and all hands are shown.