Thought i´d start a development thread to keep track of the progress, and maybe the feedback here can keep me motivated so i can actually finish this project
The game is a dual joystick shooter game. Left joystick moves the ship and the right one aims and shoots. It´s in very early stages of development, but i´m making good progress.
I´m thinking of having an endless mode, where you just try to get a high score, and a "campaign"-mode with missions, different levels, boss fights, etc...
Here´s a little video showing the game so far.
(The recording software caused a little lag on the video, and i forgot to turn on full quality. Also, i´m not playing so well because my kid kept poking me
)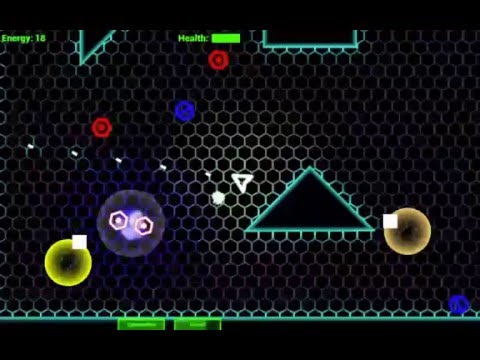 Some of the graphics, spawning of enemies, enemy AI, game difficulty etc. is still temporary, but enough to show a little how the game plays.
What next?
-The green hexes are energy you can collect to charge your special weapons. Special weapons are activated by pressing a button on the bottom of the screen. I need to re-think this, as it´s very distracting to activate them in the middle of a battle. Maybe i just get rid of the energy system and replace it with a simple pick-up item for each weapon/ability...
-Enemy AI needs to be re-done.
-Level design needs tweaking.
Any feedback and possible suggestions are greatly appreciated.
Thanks for reading!